Negative Content Suppressed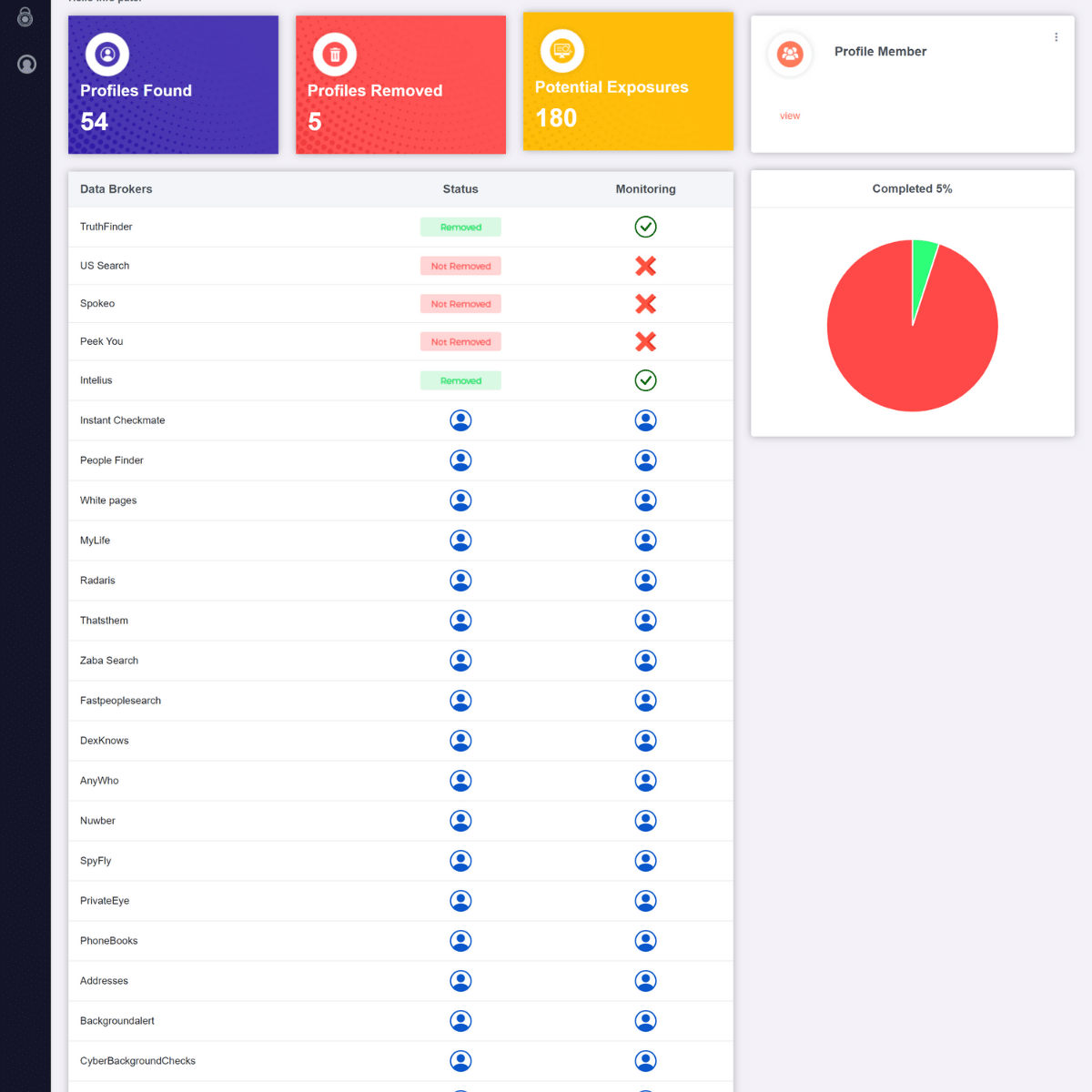 How it works
Are you someone who needs online privacy? We can help!
With Reputation Privacy, you can choose the plan that best suits your privacy goals. You can upload the information you want to protect, and we'll keep it safe and secure. You'll also enjoy the benefits of online privacy, such as:
Peace of mind knowing that your personal information is safe.

The ability to control who sees your information.

The freedom to express yourself online without fear of being tracked or targeted.
So what are you waiting for? Sign up for our online privacy service today and start enjoying the benefits of online privacy.
Reputation Privacy
actively protects you online
About Us
We believe your online privacy is important.
Your information is being bought and sold every day. You can protect your identity and personal information by removing and monitoring data brokers. At Reputation Privacy, we take a proactive approach to keeping your identity private.
Privacy Dashboard
24/7 Support
Personalized Privacy Tips
Monthly Monitoring & Reporting
Our Mission
Stop worrying about negative content online.
In today's digital age, content sharing is part of everyone's internet experience. Your personal information may be unknowingly accessible to cyber criminals. Reputation Privacy aims to give you back control of your personal information.
Scanning the Dark Web
Reducing Identity Theft
Deleting Non-Consensual Images
Keep a Clean Digital Footprint
Our Vision
Internet Privacy protects your personal reputation.
You can also manage your personal reputation online with internet privacy. Although the information you share with others may not reflect your personality, it is important to protect yourself from making hasty, inaccurate, or negative judgments.
Keep Court Documents Private

Hide Your Home Address

Safeguard Financial Documents

Maintain Your Employability
Your success is our success
"After becoming aware of the fact that my personal data was on many websites, I decided it was time for it to be removed as soon as possible. Hayley was able to help me with my concerns and provide suggestions on how to get as much information removed as possible. Reputation Privacy did a great job removing large amounts of my private information from numerous websites. I continue to receive advice from them as new sites are created."
Confidential Client
"An online information site had decade-old material that they used for doxxing on me and tried to get me to sign up for their site in exchange for this information being suppressed. I decided to try to remove the search results myself from Google but quickly realized it was going to take too much of my time and lost interest. Reputation Privacy was not the first company I contact but I instantly had a rapport. I am very satisfied with their service and attention to detail. "
Confidential Client
Frequently Asked Questions
What is online privacy?
Internet Privacy is the level of privacy protection that an individual has when connected to the Internet. It refers to the online security that is available for financial and personal data, communications, preferences, and other information.
Why is Privacy important?
Online privacy concerns include information that you are comfortable sharing (say, with a public social network account) and annoying privacy tradeoffs such as targeted ads or public embarrassment.
Does online privacy matter?
It refers to the individual's right to decide for themselves how and when their personal information is used by others.
Privacy is essential to human dignity, safety, and self-determination.
Individuals can freely express themselves.
How to Remove Your Information From hpcc-usa.org?
In this digital age, our personal information is more accessible than ever. Websites like...
Opt-Out Guide Hodges-Directory.us
In the vast landscape of the internet, our personal information is like currency, traded and...
Getting Your Information Removed from GoLookUp
In today's digital age, our personal information is increasingly finding its way into the online...